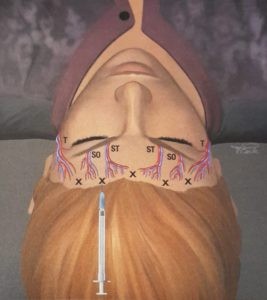 The anaesthesia in hair transplant procedure is a very important part to make the hair transplant procedure comfortable and easy going. Many are worried about the intensity of the pain during the procedure. Our doctors for hair transplant in Pune, Indore, Mumbai, Delhi, try to make the procedure of hair transplant very comfortable regarding the pain. Doctors take care that there is no postoperative pain also.
1. Testing of local anaesthesia is done by giving a test dose.
2. The anxiolytic tablet is given.
3. Topical anaesthesia is applied. It is must to wait for 45 minutes for the effect to come.
4. Local anaesthesia in infiltrated and to ease the pain doctors use an electrical vibrator. This makes the hair transplant procedure comfortable. Ice packs, nerve block, wheel technique and slow infiltration of drug they help a lot in minimizing the pain.
5. Tumescent infiltration helps to prolong the operative time and reduces the pain.
6. Post op anti-inflammatory oral drugs help to reduce the pain at home.
7. Here is no side effect of this anaesthesia as it is local and the dose is given according to the body weight. Allergy to the drug is already tested.
8. BEARD TRANSPLANT: In this, the anaesthesia is given by submental block and augmented by tumescent anaesthesia.
9. Body Hair Transplant: In this intercostal nerve block is given.
Read More: When Is The Right Time To Undergo A Hair Transplant Treatment?
Sai Cosmetics, being a preferred centre for hair transplant in Pune, ensure that the hair transplant procedure is carried out safely and painless for you.