Platelet Rich Plasma (PRP) Therapy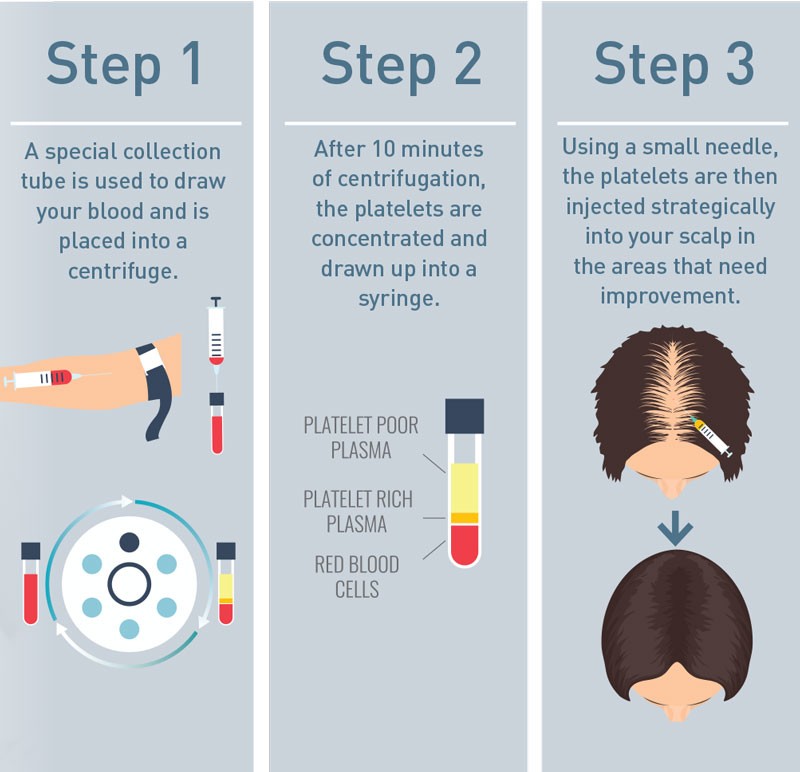 Platelet Rich Plasma (PRP) Therapy
What is PRP?
PRP is a therapy which is used for treating hair loss, hair thinning, improvement in hair texture. Our blood is made of red cells, white cells, platelets and plasma. Red cells have oxygen carrying capacity.White cells take care of body reaction to infection.Platelets take care of clotting whenever bleeding occurs. Platelets have growth factors PDGF platelet derived growth factor,vascular endothelial growth factor VEGF,transforming growth factor TGF which help in wound healing and probably hair growth.
How long the procedure take?
PRP is a nonsurgical procedure it takes 45 min. to one hour.Blood is taken around 18 to 20 ml and is centrifuged. PRP is prepared and activated.Then injected in the affected area of scalp. We at our center give PRP prior to the procedure of hair transplant.
Post PRP care?
Patient is adviced not to take head bath for 24 hrs.
Is the procedure painful?
NO . Prior to the procedure topical and injectable local anaesthesia is given which makes the procedure comfortable.
Am I a good candidate for PRP?
If u have hair fall not responding to medical treatment and if u have hare thining due to stress, improper diet or lack of sleep then you are a good candidate for PRP.
Side effect if any?
No side effects as your own blood is used. There might be slight tenderness or feeling of tightness which may be for few hrs or one day.
How many sessions are required ?
Usually 4 to 6 sessions are required depending upon the severity of the baldness. Huge area cannot be coveved by this procedure.
What is the success rate of PRP?
At our clinic 85% of patient see improvement in hair fall after sessions of PRP.
PRP can be done by giving simple injections on the scalp with regular intervals. Usually injections are given one cm. apart.PRP can be also given by using dermaroller ,microinjector ,mesogun. All these facilities are available at Sai Cosmetics best hair transplant center in Pune.
OTHER use of PRP
PRP can be used for facial skin rejuvenation known as 'VAMPIRE THERAPY.