We are providing to our customer following services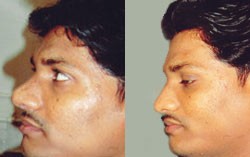 Nose Job Surgery
This is a procedure to change the shape , size and looks of the 3nose 3_1surgically, (RHINOPLASTY :Greek word rhis== Nose, plessin = to shape), usually surgical rhinoplasties are done by E.N.T Surgeons, Plastic Surgeons or a Maxillo facial surgeons, rhinoplasty is done by two methods they are (1) Open method and (2) Closed Method.
All the way the aim of the surgery is to create a functionally good looking nose, by the available frame work of the Nasal Cartilage and Nasal Bone and changing or removing some part of the septal cartilage and the bone, to aesthetically improve the looks of the patient.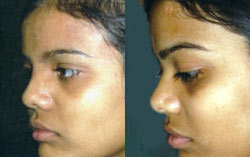 Usually, there are no marks left after a Closed or Open type of nose job after nose-JOB before Rhinoplasty. the patient may assume his/her office or daily routines in a day or two depending on the case. visible effects are less evident just after the surgery and quite evident after two or three months and are to be expected to stay for a person's life.
Non-Surgical Rhinoplasty is also done by giving Injections of fillers and is without surgery. All the surgery is done by our most experienced surgeon in India under extreme medical care which assures the desired result.