Hair transplant surgery has two important goals to fulfill one maintaining the naturalness and density in the recipient area and second taking a best care of donor area. There are mainly two types of transplant FUE and FUHT. Hair transplant surgery is performed under local anesthesia which keeps patient awake .Before the hair transplant procedure the patient has to have a detailed consultation followed by some medical tests.
The best age for the hair transplant is 25 years and above. Till the hair loss is not stabilized it is very difficult to determine the hair loss extent for the hair transplant surgeon. For young patients the frontal area of the scalp should be transplanted first. Saving the donor area for future hair transplant is must. Young patients should be explained that he might require a second sitting of hair transplant if the hair loss from the remaining non transplanted area occurred. Older age is no bar for hair transplant only the patient should be medically fit and he should be told that the results will take longer time to be shown.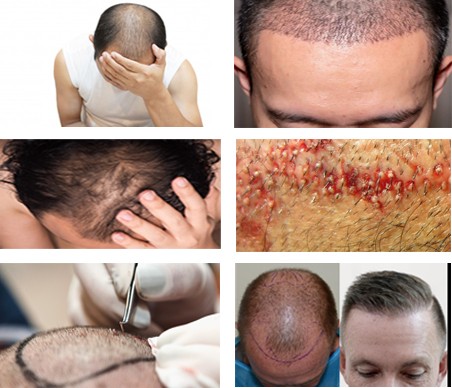 PRIOR TO THE HAIRTRANSPLANT PROCEDURE
Detailed patient history is taken regarding his hair fall, hair loss and prior treatment taken.
Has he undergone hair transplant surgery before?
During consultation all things reading hairline, density and cover expected should be discussed.
Tricoscan is done to analyze the density and direction of the hair .Any underlying scalp disease can also be accessed.
Routine blood tests are to be done.
On the day of the surgery patient has to come the the hair transplant clinic Pune wearing a front open shirt, heavy breakfast and bring all his reports with him.
Transport Usually patients are very comfortable to ride their own vehchile to their home back. If patient is undergoing a mega session of hair transplant they might assistance while going home and that can be arranged easily.
Incision is not visible immediately after surgery.
PREPARING FOR HAIRTRANSPLANT SURGERY
Two weeks prior to the surgery blood thinners, alcohol, nicotine should be stopped ideally. Alcohol and nicotine as they can cause increased bleeding and can hamper the work of surgeon.
Patient should continue taking his medicines for blood pressure and diabetes as usual.
If taking any other medicines then he should inform the hair transplant surgeon prior to the surgery.
If using minoxidil then it should be stopped two weeks prior to the surgery.
Day before and on the day of the surgery patient should clean his scalp with cholrhexidine. He should not apply any hair spray or oil before coming to the hair transplant clinic.