Sai Cosmetic is modern, pioneer hair transplant & cosmetic surgery centre in Pune.
Our centre has the track record for providing good result to the people at the lowest possible cost.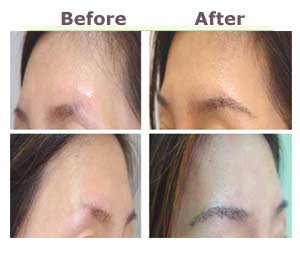 Eyebrow Transplant
A thin or absent brows can draw unwanted attention to face. Transplantation to the eyebrows is a procedure designed to restore growing hair to eyebrows that are overly thin, scarred, or completely missing. The absence of hair can be due to genetics, prior electrolysis or laser hair removal, over plucking, thyroid or other hormonal abnormalities, or trauma due to surgery, burns or other types of accidents.
At our centre, we use proven FUE hair transplantation techniques to solve permanent hair loss in the brow area. The procedure is performed by almost experienced hair transplant surgeon Dr. Amitabh and Dr. Ruchi Shrivastava. It takes only 2-3 hours.
The 2 hour procedure is essentially painless, as is the recovery period. For the first 2 to 4 days after the procedure, tiny crusts are around each transplanted hair. The transplanted hairs fall out at around 2 weeks, and then start to regroup at 3 months, where they will continue to grow for a lifetime. Eyebrow Restoration is a more delicate procedure because of the eyebrow�s facial visibility which is much more noticeable than the scalp. Eyebrow restoration surgeries have since evolved into a cosmetic procedure favoured by people wishing to have perfect eyebrows.
The new eyebrow will look natural but it is not a perfect procedure. Since the hair is taken from the back of your scalp, it will continue to grow long and periodic trimming is required.