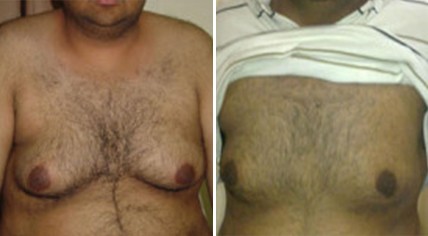 Gynaecomastia Surgery
Sai Cosmetics provide best Male breast reduction (Gynaecomastia) solution at affordable cost:
In some boys during puberty and adolescence, the breast enlarge abnormally. This can cause a psycological problem and the boys are embarresed to take male-breast-afteroff their clothes in the male-breast-beforelocker room, swiming pool. Largely it can be associated with hormonal problems.
A incisor is given at the lower half of Arcola and excesses of tissue is removed, it may be assisted by liposuction. It can be done in local or general anesthesia.
Patient can go home after a few hours. It is very rewarding surgery